Steve : Some people go to great lengths to avoid the heat of the day. I got up around 3:30am to do my old-man-goes-to-the-loo-in-the-middle-of-the-night trip and someone else was up, packing their bag for the day.
We got up with everyone else and we're on the road at 5-something am. Today is a short and boring day. 19 km to Carrion, almost all of it along the road.
We had a first rate breakfast at Poblacion de Campos in a rather upmarket albergue as it opened at 6:30am. We must look for more such albergues!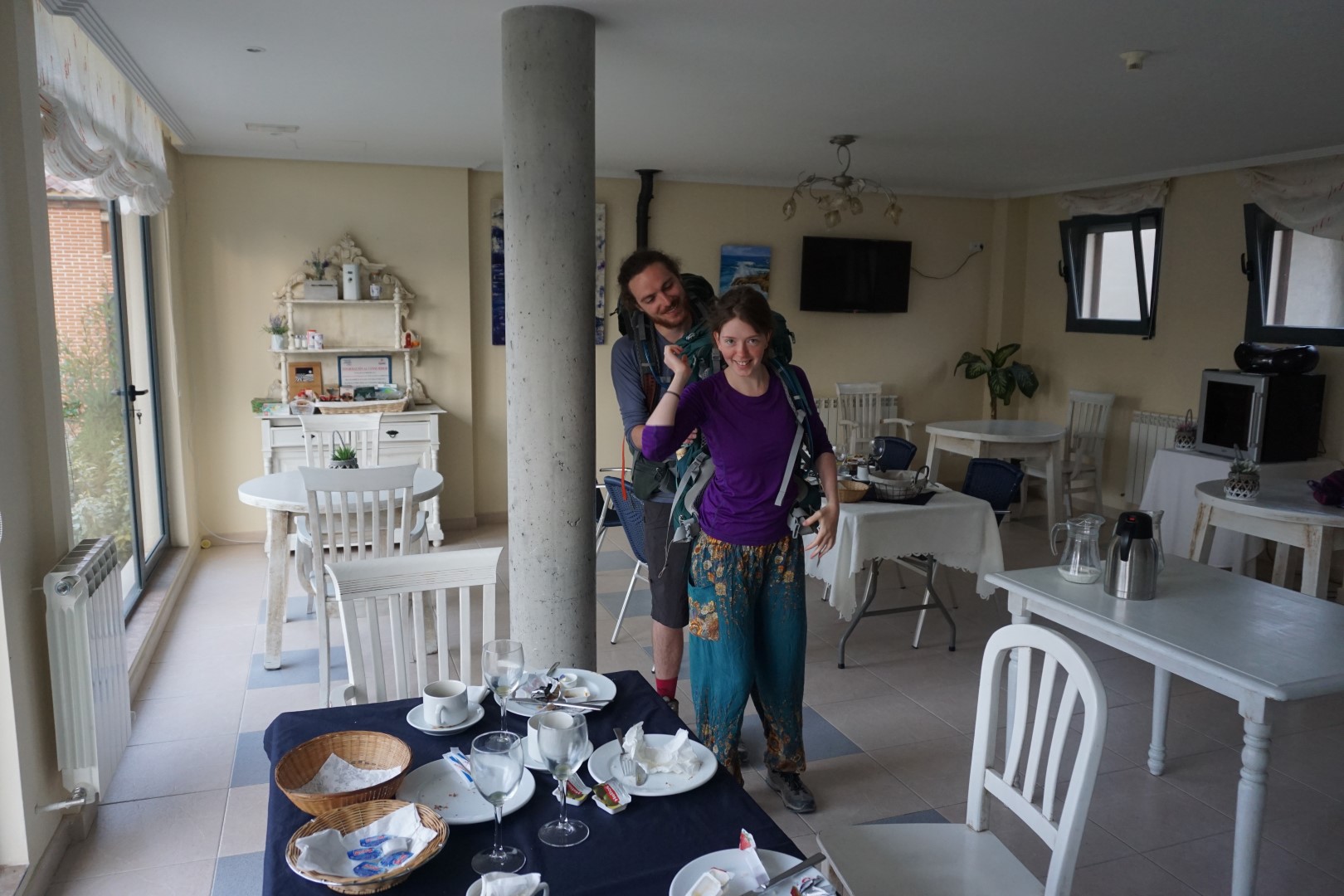 A second breakfast at a fun hippy albergue followed in Villarmentero de Campos.
Then, heads down, suncream on, headphones in, off we go along the roadside.
We arrive in Carrion around 11am. We have beaten the worst of the heat!
Our albergue, a convent just inside the town, called Santa Clara, is very nice.

We have a room with three beds and lots of room. Excellent.
Following the rinse, lather, repeat washing cycle H and I go out for lunch whilst J falls asleep. We find a proper restaurant with white shirted waitresses and air conditioning. We have a veggie version of the peregrino lunch special and are well satisfied. At the next table are half a dozen men who we think are the guitarists for a concert that is happening in the evening. They have the correct fingernails and – dead giveaway – one of them has a guitar. the leader of the group, an American, also has a very small kitten in the top pocket of his white shirt. Every now and then we hear a miaow and a tiny leg pops out to bat at something.
It's now very very hot. I bought another pair of socks from a specialist hiking store. The lady tells me they are a good Camino choice. I hope she is right.
Back to the albergue for a sleep, difficult in the heat.
In the evening we go to the guitar concert in a converted church.
The American man in the white shirt in the restaurant is, indeed, the leader of the guitar school that is housed in this church.  I ask after the cat and he tells me that it died.
I relay this to Jen who says that sick feral cats are very common in Spain.  It looks like our American friend was trying to save one small kitten and had, sadly, failed in his efforts.
The guitar concert was excellent.
Back to the albergue where H made some banana and Huel pancakes and finally got to use the Huel he'd carried across half of Spain.
A final wander around outside the albergue, where H decides to do some slack-wire…
And then to bed.
Tomorrow is a long 30km+ day with the first 17 being the longest stretch on the Camino without water. Right!
Fromista to Carrion de los Condes

Steps 32,090
Distance covered, according to Brierley

19.3 km direct, 19.5 km actual walking
407.4 km to go

Other Fitbit stats

28.88 km walked (based on 0.9m stride length)
345 'active' minutes
4,734 cals burned