Jen and Hamish walking to Vilar de Mazarife. Steve on the bus to Hospital de Orbigo.
Steve : I took advantage of my new plan and didn't get up until 8, a full 2 hours after the walkers had left. I had another shower (the luxury!!) and spent 20 mins spent trying to sort out my feet and socks and shoes.
Then off to wander around Leon until my 1pm bus.
Leon is a rather pretty city, if you ignore the outskirts. The cathedral is magnificent and I paid my 6 euros and spent an hour or so soaking in the atmosphere.
The audio guide said that in the 13th century, when the cathedral was built, the town was a mere 5000 people. That's smaller than my home town in Scotland. I'm never entirely sure if this is a genuine sacrificial act of  community worship or some feudal game of "who has the best cathedral" played by the ruling classes, whilst the peasants would really rather just have some more food. I suspect the latter but I suppose we'll never know. In any case the cathedral is magnificent.
I had breakfast in an upmarket cafe overlooking the cathedral. And, in spite of everything, I genuinely missed the tortilla and coffee of the real peregrino and envied J and H.
I had a dodgy lunch in a dodgy cafe near the bus station (why are cafes near stations always a bit suspect?) and guiltily got on the 13:00 bus. Three euros and 15 cents gets me out of a day and a half of walking.
I arrive in Hospital de Orbigo after 40 minutes and check in to the very splendid San Miguel albergue. It comes complete with paints, brushes and an easel should you feel the need to get creative. The entire place is lined with peregrino artworks. Lovely.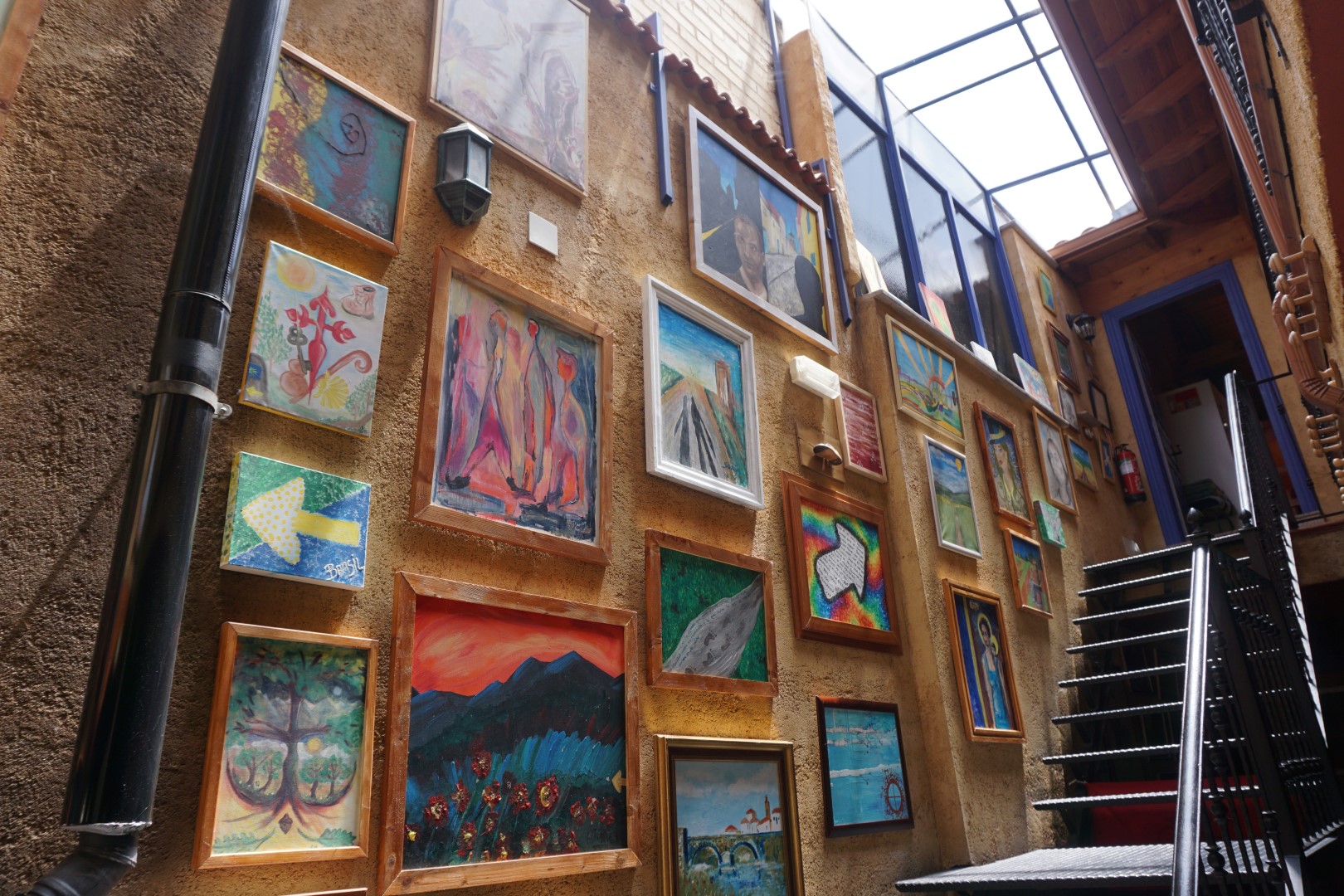 I get in to a small room with four beds and, for the first time, I'm on a top bunk. Not sure how that will play out…
This is a beautiful town and this is a particularly fine albergue. The hospitalero is from Venezuela and has lined the entire building with art works created by peregrinos. He provides a canvas, an easel and some paint and away you go….
I read and slept most of the afternoon and evening as the mercury rose. Dinner was a generic veg paella in an air conditioned restaurant. I spent the rest of the evening talking to some of the younger walkers. The other midddle aged couple in my room were a bit miserable and seemed to take my arrival as a personal insult but never mind.
To bed at 9:30. Trouble was it was so hot. The pharmacia sign said 35 deg C at 8:30. I lay there listening to podcast after podcast. I recall looking at my watch at 2:30am. I think all four of us were awake in the room. I don't think I've ever been so hot. At one point I thought about getting up and going out to the garden just to avoid hallucinating. The next thing I knew it was 4 am and the miserable couple's alarm had gone off. They really were bad room mates. Good practice is to put your alarm (usually your phone) under your pillow and thus not annoy anyone else. But no, the alarm goes off, some yawning and stretching happen, and then the alarm is silenced. Thanks for that…
Steve: Leon to Hospital de Orbigo, by bus. As I'm the one wearing the Fitbit all stats are mine. Even though it was supposed to be a rest day for me I still managed to exceed my 10k steps
Steps 12,709
Distance covered, according to Brierley
Other Fitbit stats for Steve
11.44 km walked (based on 0.9m stride length)
103 'active' minutes
3,121 cals burned
Jan and Hamish did some 22km walking