We've decided we all prefer the donativo albergues. These tend to be older, and are often run by some local Catholic church. Logrono was such an institution, and today we are heading beyond Santo Domingo, the recommended stop, to Granon, home of the oldest donativo. Apparently the same Father who ended up running Logrono started out at Granon. As I understand the story he was a parish priest who had this enormous ancient building and felt it was all a waste of space. So, he got in some mattresses and mats, and opened his doors to the passing peregrinos. He would house and feed them with no expectation of payment. Like I have said on numerous occasions, the rules of the capitalist society in which most of us live just don't really apply here.
We arise at the Najera albergue un-bright and early. It's been raining…
It's dark and Najera isn't particularly photogenic. We get out of town and into the fields.
The sun comes up, thankfully….
We roll up in Azofra and have Breakfast #1
And now, some cat videos…
My Merrell sandals that I am accidentally wearing (see later in this post) break a lace. It takes ages to replace it…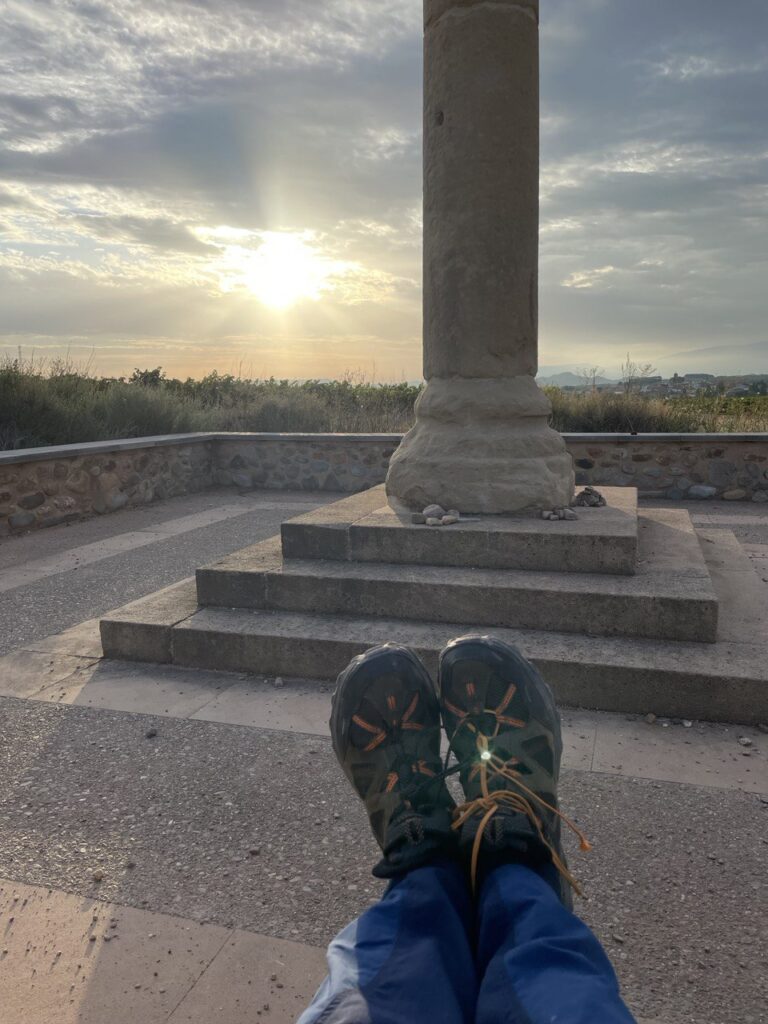 We pass through Ciruena, through more fields…

I wander into Santo Domingo, past the cathedral…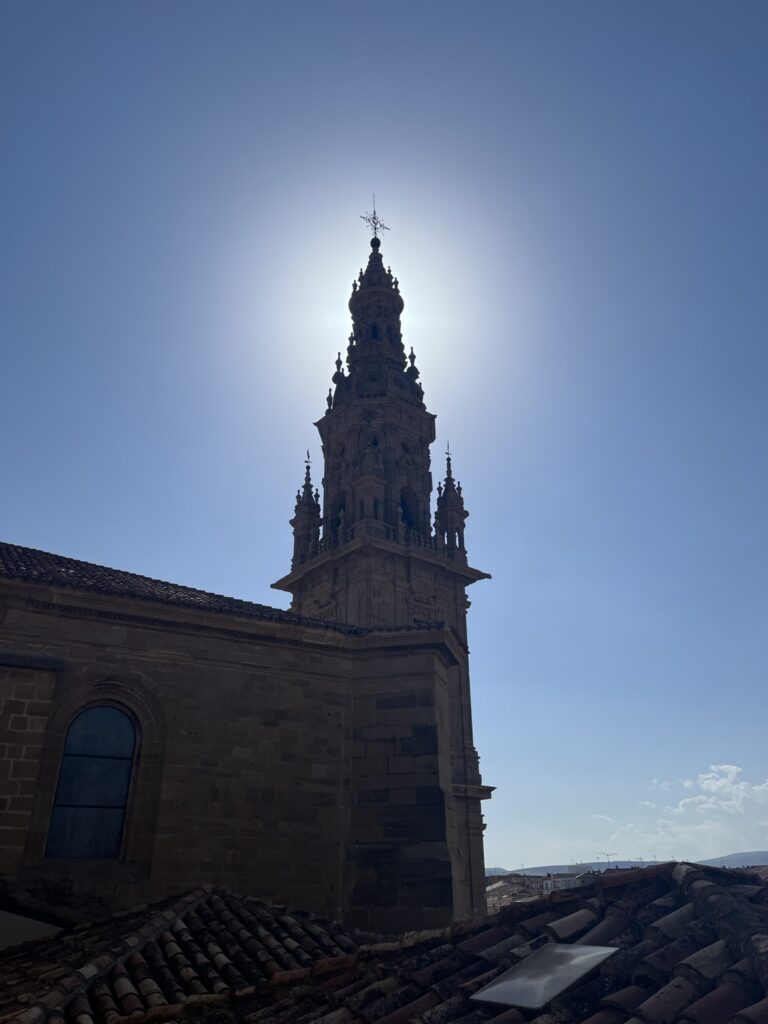 … and discover a hiking shop. Hmm, methinks, let's see what they've got to replace my excellent (but sadly inappropriate in the Spanish heat) Salewas. A few minutes later I have a pair of outrageous Hokas. I head to the post office and send the Salewas home.
I speed on out of Santo Domingo to try and catch up with the others. I pass our Texan pals, Brian and Mike, as I rush on past.
Off to Granon…
Made it!
The hospitaleros are out to lunch, so they leave the place under the charge of Connie, a peregrino who happened to be there when they left for lunch. It's that kind of place…
This is a very old church. There are two dorms and Llew and I end up in the upper one, right under the roof. It overlooks the kitchen.
We claim our mats, dump our stuff, and do the washing of ourselves and stuff. Diana is very impressed (?!) with the laundry facilities that are right up in the top of the church.
The drying area is a good walk down the street, in what looks like common land. It's an honest borough!
Now that we are all clean and shiny it's time for lunch.
At 5pm the hospitaleros round us up to help prepare the evening meal. I peel a huge bowl of spuds and then seem surplus to requirements. The albergue has two Spanish guitars which are miraculously in tune. I pick up one and a French chap, Guilliame, picks up the other. We are both aged hippies so know much of the same stuff. We have fun serenading the kitchen crew.
At 6:30 we take everything that needs cooking across the street to the aptly named Patiserrie Jesus bakery, where they cook it for us, whilst there's a pilgrim mass in the church. We dutifully attend. Still clueless about what;s going on but everyone seems very happy.
Back to the albergue for dinner…
We all help with the washing up. Then, like Logrono, the hospitaleros take those who are interested into a back room, at the top of the church, for a 'contemplation'. This is very nicely done and rather moving. The leader goes round the gathered group and asks each of us to say something about why we are here. Or keep silent. Or sing. Or anything that makes sense to you at the time.
I start out explaining my story and struggle to keep it all together. I make it through and feel better for it. Others have strange and strong stories to tell. But, just as what happens in Vegas stays in Vegas, so what happens in this circle stays there.
Off to bed. A good day and very happy to be here.
Day 9: Stats
Najera to Granon
Steps: 40,089
Distance covered: 32.23 km
Apple Watch stats