Ah. Snoring….
Most folks on the Camino are recognizably 'pilgrim'. We all share specialist footwear and quality backpacks and we wear 'technical' clothing (made of quick drying synthetic material). But, every now and then, you see someone who looks very different.
Yesterday, after we had checked in to the donativo in Logrono a young very English chap arrived – think Hugh Grant in 'Notting Hill'. He was wearing a tweed jacket and normal street shoes and didn't seem to be carrying much luggage. He was sitting next to the hospitalero desk and had the 'thousand yard stare'. I could hear the hospitaleros discuss what to do with him. He seem so detached.
After the communal dinner that he did not attend, and the service (ditto), we went back up to the dormitory around 9:45pm. The tweed jacket-ed peregrino walked in, lay down on his mat, with no sleeping sheet or change of clothing, shut his eyes and went straight to sleep, still wearing his tweed jacket.
After 10 mins or so he started full-on no-nonsense snoring. Two Italians, who had mats next to him, moved over to the other side of the room. That wasn't nearly far enough so they gathered round him and had a discussion about Plan B. They shook him gently. No effect. They conferred again between themselves, did an Italian shrug of the shoulders and gave up. We all settled in for a long night.
To be fair, it wasn't just the snoring Hugh Grant that was making a noise. All the windows were open and the street sounds of Logrono wafted in on the breeze and added to the general din.
I have many hours of BBC stuff on my iPad so I fired up a 'Charles Paris' mystery and put in my headphones. A little light murdering should help pass the time. After a few hours of that, I turned to my 8 hour recording of white noise. The idea is to turn it up loud enough to mask the external racket. It must have worked because I found myself waking up at 5:30 with the rest of the peregrinos. Hugh Grant was still fast asleep. And silent. Damn him.
Anyway….. The snorers had to get to us eventually.
The route out of Logrono is quite tricky in the dark. Flocks of peregrinos would perform a kind of murmeration, like starlings, and move as a fluid beast through the city. All getting lost, and then all finding the path again.
Logrono is a big town and it took some time to get out, above the city.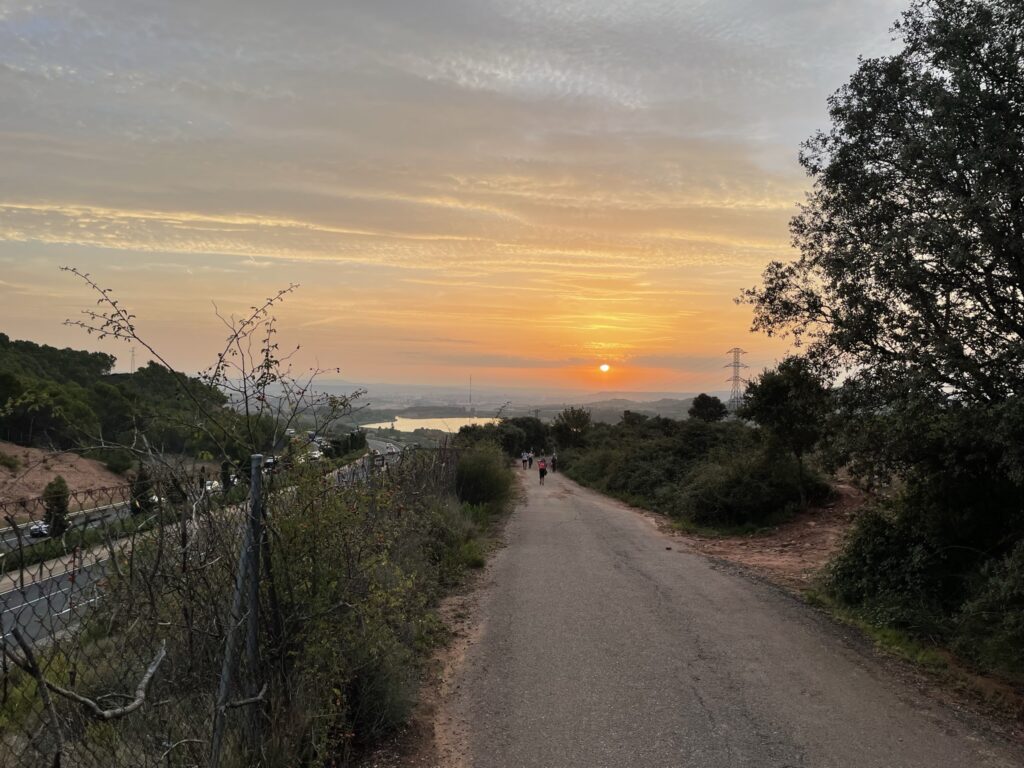 We pass a toro advertising hoarding on a hilltop (not quite sure what was being advertised…) as the Camino trail followed the road.
Eventually we head into wine country.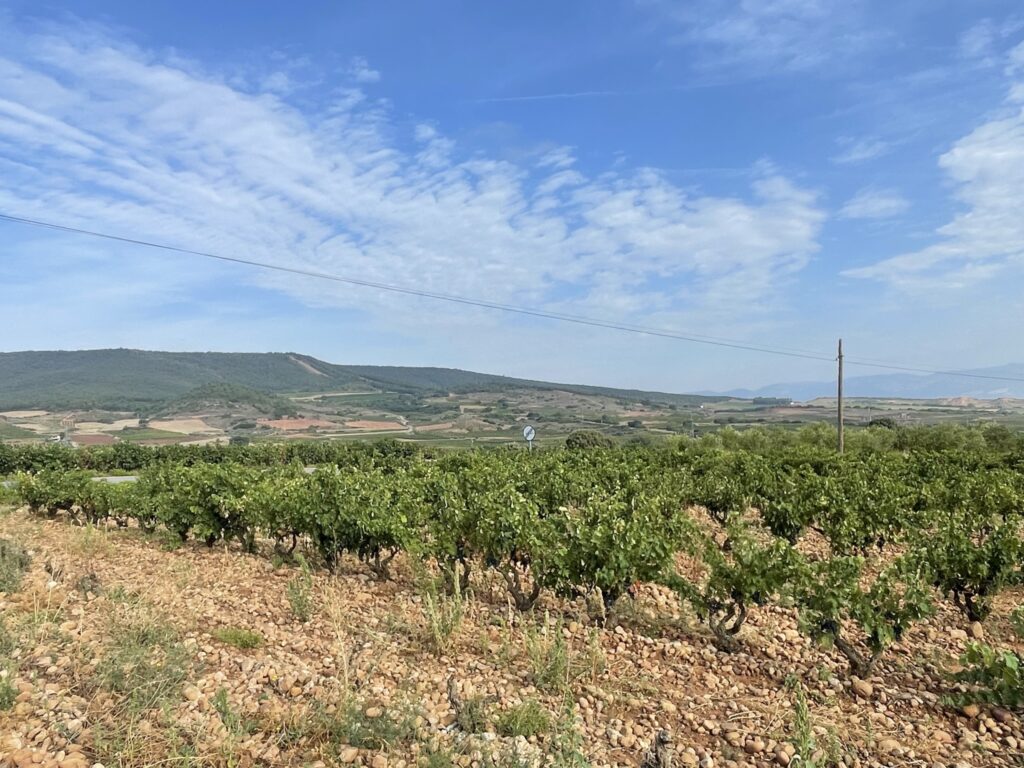 It's getting hot. The trail follows the road, unfortunately.
I indulge in a small amount of theft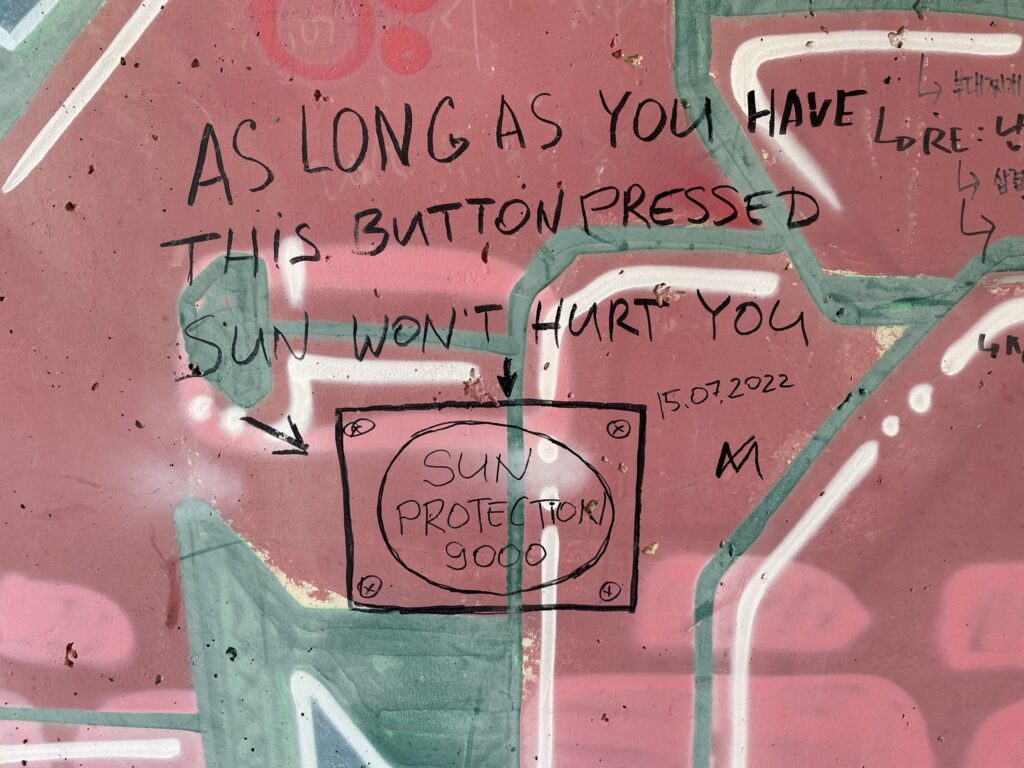 We approach Najera, whicch is a much more industrial town than I remember.
We arrive, Jonathan is first, and he discovers than the municipal albergue is shut. Something to do with a water or a plumbing issue. Our Spanish is too poor to tell.
We settle on a cheap (EUR10) place whose name I have already forgotten. It's busy and hot. But we're in good time and all get beds. We do the clean up routine and either collapse on our beds for a sleep or go for a wander. I elect the latter and find a cafe down by the river where I eat a salad (healthy!) and some patatas bravas (basically chips in a chili mayo sauce – not so healthy). Lovely.
We'd booked slots for the communal evening meal in the albergue. Us veggies were very well taken care of.
Life is simple and we make our own entertainment. I was having an in-depth discussion with a couple from Montreal about the independence movements in Quebec and in Scotland when a sing-song broke out at the other end of the table…
All good fun. Off to bed. Snoring was a gentle 3/10.
Day 8: Stats
Logrono to Najera
Steps: 40,301
Distance covered: 32.1 km
Apple Watch stats

25 'Flights Climbed'
Average heart rate: 75 bpm
Peak heart rate: 136 bpm